Here I am, having a beer in the courtyard of a blues bar, listening to a Turkish band cover Smooth by Santana. The guitarist is killing it. I'm now in Istanbul--the Pera area to be exact. Yesterday was our final day in Bucharest and we didn't get to our hotel in Istanbul until 2am, so no journal entry (sorry, mom). I will quickly note that our final day in Bucharest was exactly what I'd hoped it be. I was able to walk around Revolution Square and see the potato (Memorial of Rebirth) up close. We had a final amble through the old city, and capped off the day with Sergiu and Adriana for dinner in their courtyard under a canopy of grape vines.
My dad and I are staying at the Pera Tulip Hotel, the same hotel he and mom stayed at when they visited five years ago. It's situated in the more European side of the city near Galata Tower. We took off around eleven this morning, walking down İstiklal Avenue towards the Galata Bridge. You could see several mosques in the distance while walking down the hill with their slim, circular minarets. It was interesting to compare them to what I had seen in Morocco, where their style is square or octagonal.
Our first activity of the day was taking the ferry along the Bosphorus. In retrospect, this probably wasn't the best activity to kick off my first day in a new city. I wanted to get into the streets and instead we were embarking on an hour-and-a-half boat ride that left the city and traveled north of the Bosphorus Bridge. There's no denying that it was a beautiful trip, especially with sun being out. But my energy level was craving something a bit more hands on.
Nevertheless, we cruised along the strait while enjoying a cup of tea, which I soon realized was what my dad most loved about this trip, which he also did with my mom five years ago. There are advantages to traveling with someone who is a bit familiar with the city. For example, I had no clue that the bottom level of the Galata Bridge was packed with restaurants. My dad clued me into that because, yep, you guess it: He went there with my mom five years ago. But there's also the potential downside of having an attraction over-hyped and then feeling let down once you arrive for a first impression.
Fortunately Istanbul is a city that doesn't let down. After the ferry ride, we continued on to the spice bazaar, picking up some pastries for dessert. Again, my experience in Morocco--specifically Fez--came to mind. There's a lot of similarities, yet Istanbul so far appears much more polished and new. I got a similar impression in the Grand Bazaar. I was going in expecting a similar experience to Fez or Marrakesh, and there were similarities, but what really impressed me was how orderly and modern it felt.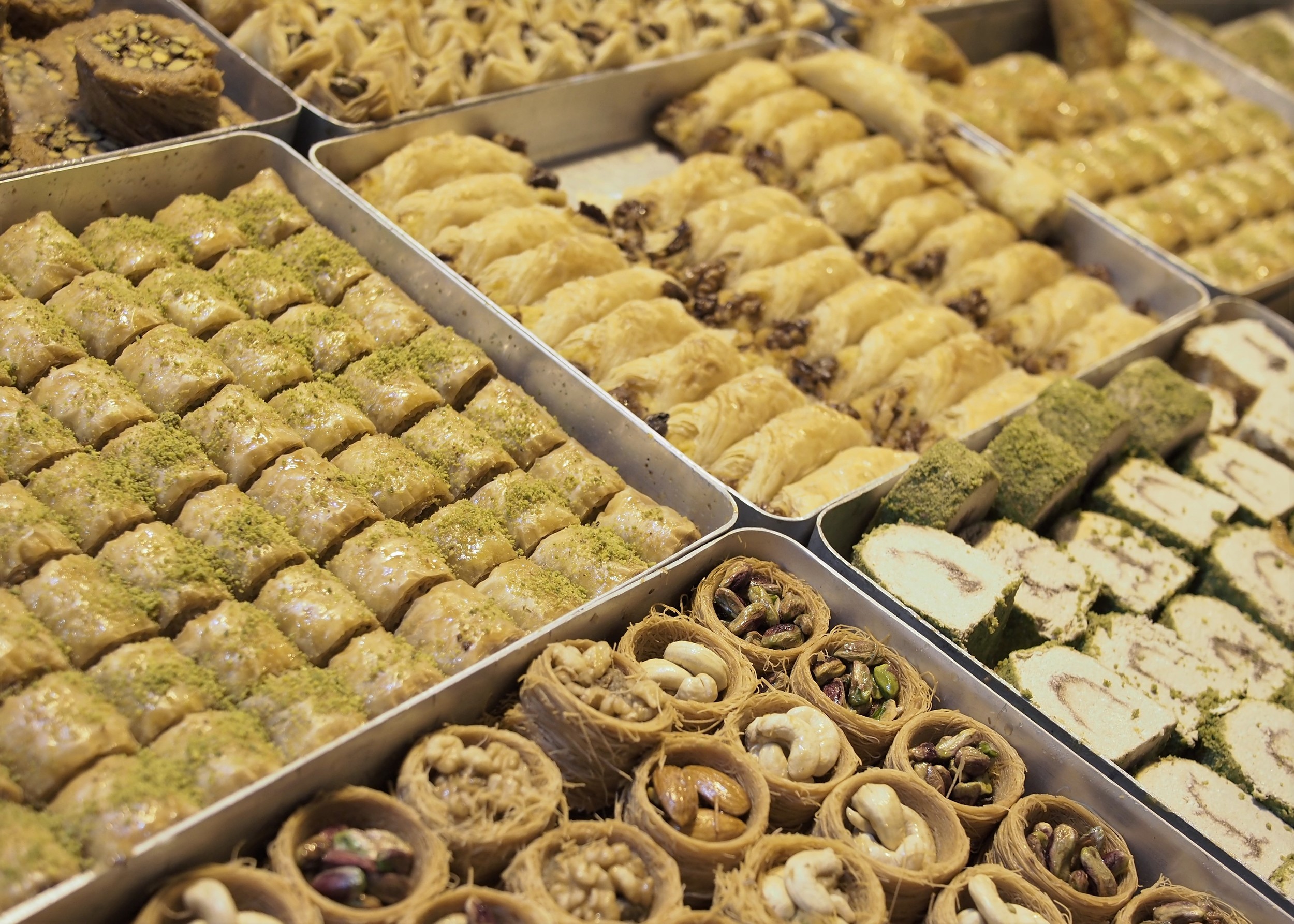 We wandered around aimlessly for a long time before heading back to the hotel to clean up for dinner. The restaurant we picked out...
...Sorry. It's really hard writing right now with this band butchering Smoke On The Water. It's step below drunk karaoke. I don't understand how the street cats can sleep with this racket. Speaking of which, there's a cat curled up on my backpack, which at first grossed me out, but now I think it's kind of sweet. My new Turkish pet.
Back to dinner, we ate at The Number 19 Dining, a cozy spot near our hotel. This place had amazing food that had that home-cooked-meal feel to it. What was most interesting was the way they presented their dining options. Rather than a menu, they had the dishes spread out in the front of the restaurant and you picked from them, after which they would bring it out to the table. Kind of a high-end potluck. Like, I said, the food was great and the concept even better.
After dinner, we walked the entire length of İstiklal--even more impressive at night. It's the widest (and longest) pedestrian-only road I've ever seen...
...Sorry, again. I have a cat update. There are now two cats curled up on my backpack sleeping, and a weird albino-looking one on the outskirts. It's eyeing my roasted peanuts.
İstiklal. Huge. We walked a lot, I bought some Turkish Delights, and now I'm here with my cats, Turkish cornball of a bro-dude-cover-band, and empty pint of beer.
So far the distractions have been endless. Everything deserves attention and admiration and I'm beginning to think three days isn't enough.